Fabric has closed their services

switch to TPA
Fabric has announced deprecation of their product and their services have been shutdown as of May 4th. Give TPA a try, as your main tool for creating the perfect app.
Try for free
We offer a world-class tool
Our tools have been designed for app owners that want to be in control of their apps. It handles everything from a single app to large cooperations with many apps, vendors, and users.
App Management
The app management features of TPA scale from a single app to complex app setups with multiple apps, implemented by multiple vendors and with several tracks for debug, test and release versions.

Testing and Feedback
Testing your apps is one of the most important tasks in order to ensure your app is working. TPA provides easy access to test builds and in-app feedback directly to developers.
Crash handling
TPA handles both fatal crashes and non-fatal issues. We will monitor issues across app versions and notify developers by email or JIRA. Combine stack traces with tracking to locate issues faster.
Live Analytics
Our live analytics engine enables instant visualization of sessions, users and custom tracking. TPA is one of the most live and accurate analytics engines on the market.
No credit card needed
Get strategic insights, extensive data analysis and knowledge of all important aspects of your app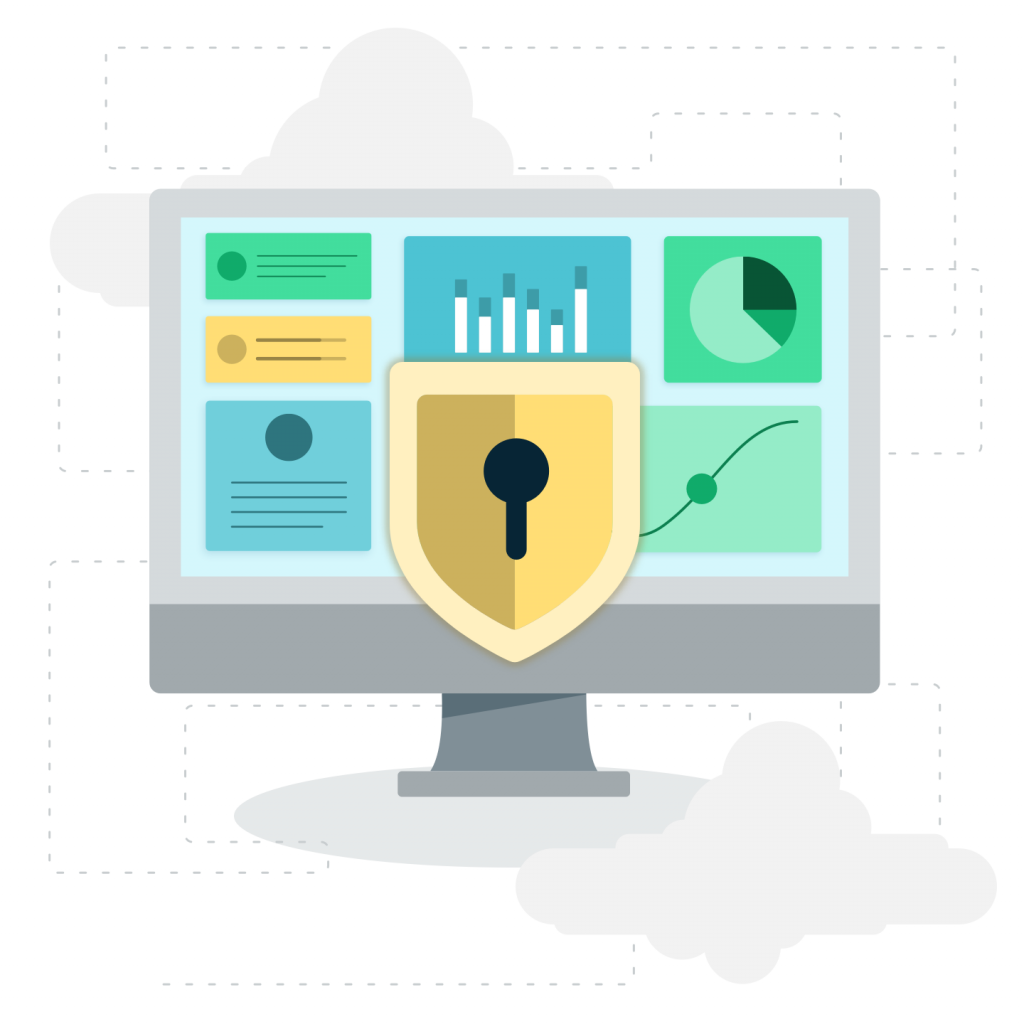 Your data is yours
With TPA your data is always yours. We take every measure to keep it safe and secure while providing you with full access to use it however you want, whenever you want.
Secure IBM Cloud data centers in the EU
TPA is running in secure IBM Cloud data centers that are located within the EU. IBM Cloud is one of the most secure public clouds for businesses. Read more.
As much as we value your data, we also value your app users' data. Our SDKs let you choose how to track your users. We do not track anything that you do not ask us to.
Data is not shared with third-party
Any data that is tracked from your apps are yours to keep. We do not share the data with any third-parties – we do not leverage from your data!
No credit card needed
If you are using Fabric today, you will soon go blind!
Without testing, crash handling, and analytics, you will not have any idea about how your apps are performing. A download in the App Store does not equal a happy user. It is absolutely crucial to gain insights into the use of your apps.
Set up your 30-day free TPA trial account immediately. No credit card needed.
No credit card needed
Create successful apps, bring value to your users and to your business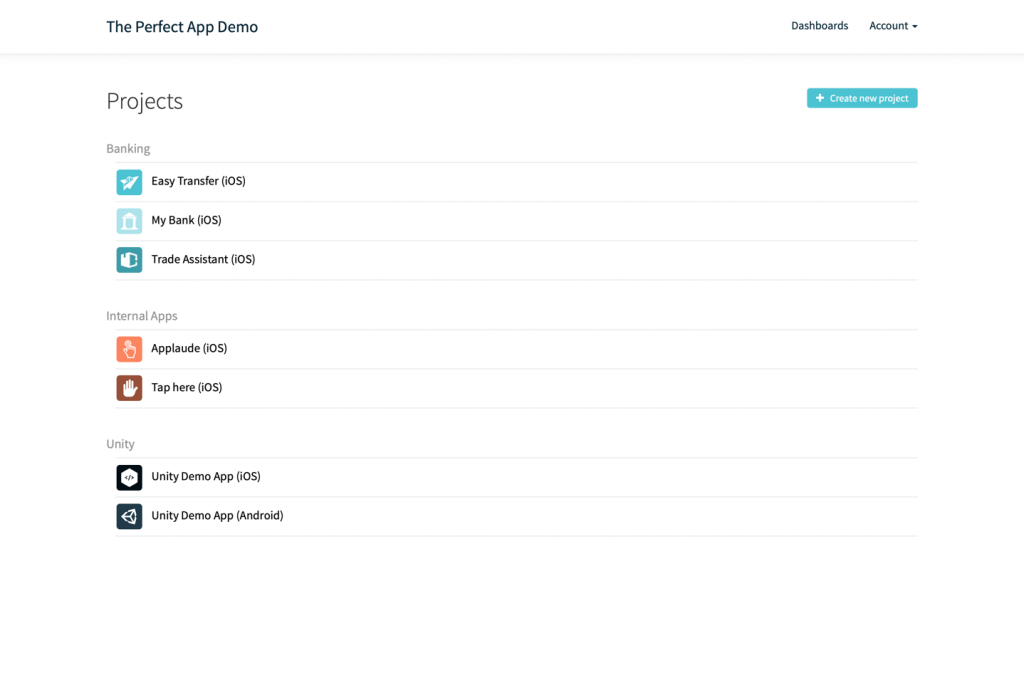 Manage all your apps
TPA will provide an overview of all your apps and you can manage access to them with users, groups and project roles. Create users in TPA or sync with your Azure Active Directory (Enterprise only).
Each project can have multiple tracks so you can differ between app versions for development, test, and release. TPA can be configured to match your development pipelines.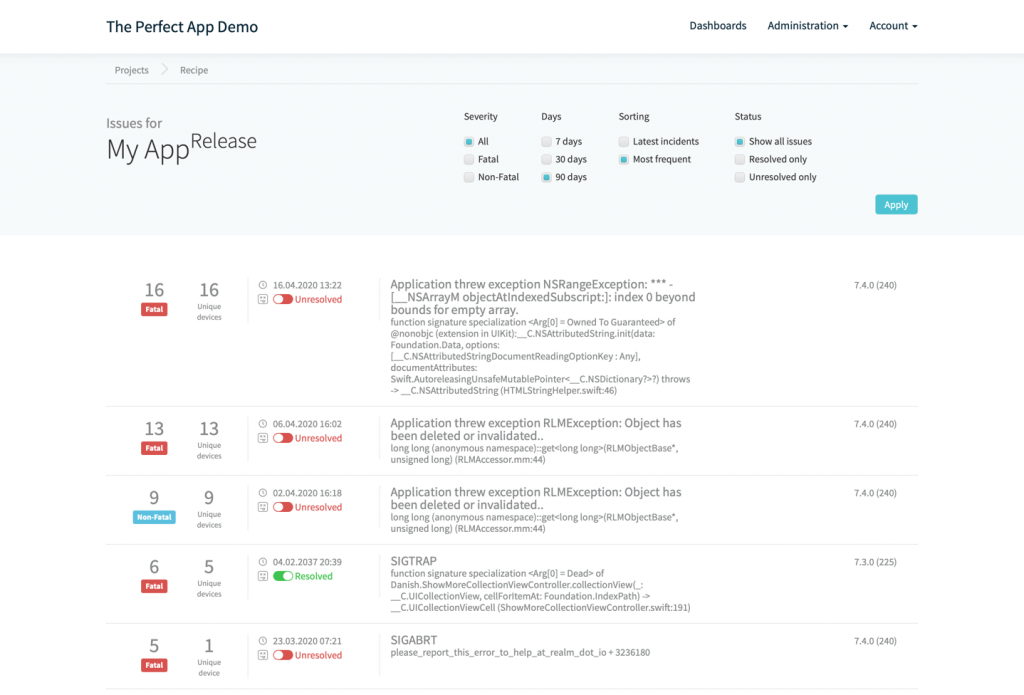 Fatal and non-fatal issues
Get an overview of all issues in your app. Both fatal and non-fatal issues will affect the happiness of your users and the success of your app.
TPA tracks issues across app versions so that you can see the first version the issue occurred in. Mark issues as resolved and TPA will notify you if the issue occurs again.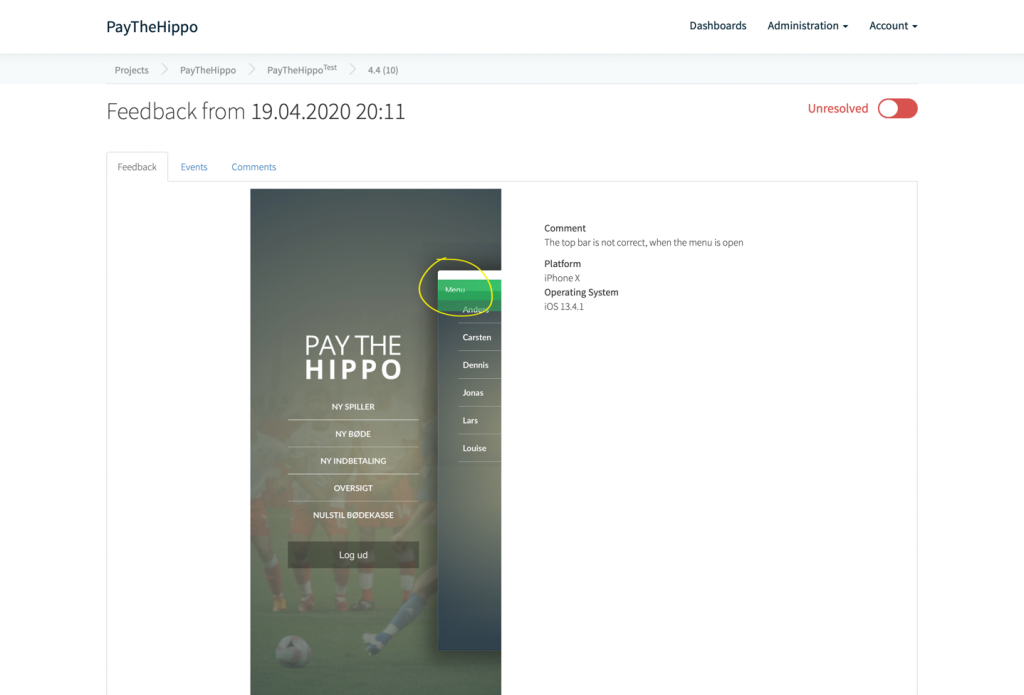 Get feedback from testers
Testers can provide feedback directly from your apps so UI and UX issues can be reported immediately to developers and designers. Having an easy and convenient way to provide feedback ensures that more issues can be fixed before app release.
TPA will automatically add relevant system information and correlate feedback with any actions taken in the app.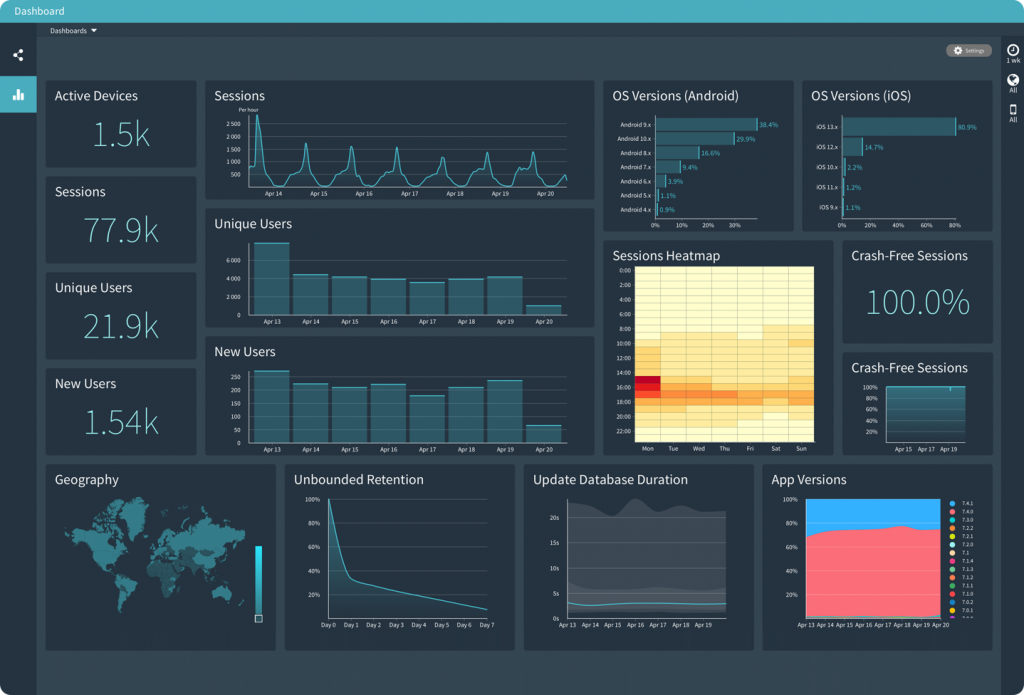 Live analytics for your KPIs
Set up any dashboard you like. The TPA dashboards are fully configurable: Create as many as you like, show data from one or more apps (iOS, Android, all your apps, etc), customize each dashboard with exactly the information you need to monitor your apps.
Dashboards can show information about stability, performance, users, retention or whatever KPI that is important to your business. And all dashboards can be shared and put on a big screen TV right in your office.
No credit card needed
Pricing
Our prices depend on a number of variables, including the number of apps and users, and what level of support is needed. Because of the complexity, we would rather chat with you first, understand your needs, and then give you an accurate estimate that fits your demands.
| | Professional | Enterprise | Custom | On-premise |
| --- | --- | --- | --- | --- |
| Projects | Unlimited | Unlimited | Unlimited | Unlimited |
| Apps | Unlimited | Unlimited | Unlimited | Unlimited |
| Tracks | Unlimited | Unlimited | Unlimited | Unlimited |
| Dashboards | Unlimited | Unlimited | Unlimited | Unlimited |
| | | | | |
| Users | 15 Additional 50 users + 10GB app storage + 1M Data Points: 100€/Month | 100 200 additional users: 100€/Month | Custom | Unlimited |
| App storage | 10GBAdditional 50 users + 10GB app storage + 1M Data Points: 100€/Month | 100GB 100GB additional app storage: 100€/Month | Custom | Unlimited |
| Data points | 1M / month Additional 50 users + 10GB app storage + 1M Data Points: 100€/Month | 5M / month 5M additional Data Points: 100€/Month. Excess Data Points: 50€/2M | Custom | Unlimited |
| Data retentions | 6 months | 13 months | 13 months | Unlimited |
| | | | | |
| Test app distribution | [x] | [x] | [x] | [x] |
| Issue handling | [x] | [x] | [x] | [x] |
| Feedback | [x] | [x] | [x] | [x] |
| Live analytics | [x] | [x] | [x] | [x] |
| Customizable dashboards | [x] | [x] | [x] | [x] |
| | | | | |
| API access | [x] | [x] | [x] | [x] |
| Jira and Slack integration | [x] | [x] | [x] | [x] |
| AD integration | | [x] | [x] | [x] |
| Support | | Email | SLA | SLA |
| Custom terms, billing etc. | | | [x] | [x] |
| | | | | |
| Price | 100€ / month | 300€ / month | Ask us | 300.000€ / year |
*) Data points include sessions, remote logs, tracking events and issues
Need expert advice?
TPA provides additional services to help you find the perfect balance between technical performance, user engagement and business value.
We are always open for a chat to answer your questions
Don't hesitate to contact us, if you want to know more about our services or our tools.
For more info contact us